Tips For Starting Your Own Business
Do you think it would be great to quit your job and become your own boss by starting your own business? Are you thinking about establishing a business from the comfort of your home and earning a paycheck by yourselves? If so we have some good news for you because with a small capital and some initial planning it is indeed possible.
In this article, we will examine a few steps which are important when you consider starting your own business. You must understand each of the steps carefully because it could either be a stepping stone for the business or would believe you in the red. Therefore we suggest you understand the tips for starting your own business before you jump into the fray.
"Always consider who you're learning from. Don't listen to people who are not experiencing the success you want."
Ehab Atalla
Are you prepared for the challenges of starting your own business?
Every individual is not suited for the challenges that will have to be faced when trying to start your own business. Successful entrepreneurs have several personality traits which include discipline, self-confidence, communication skills, frugality, honesty, integrity, record keeping skills, motivation, good health and a lot more. You must be prepared for these challenges if you are intent on starting your own business.
Do you have the concept of starting your own business?
Before you take the initial steps and quit your job to become an entrepreneur you must have a concept in mind which can be in the form of products or services that can generate a steady stream of revenue for you. If this looks quite easy you must understand that this is the most difficult part.
You should be creating a plan that considers your knowledge, experience and the expertise in your possession to understand how you can use them in the most profitable way possible. Conducting some research in the marketplace after you have settled on an idea to understand how a similar concept may have fared will also be helpful. We suggest you begin with an idea in which you have plenty of interest along with the equipment and materials because it will lower startup costs.
Do you have support?
If you have a family and children you should be talking to them and try to understand how they feel about your decision of working from home because it could affect them both psychologically and financially. If you receive a negative response you should be addressing any concerns and determine whether it is indeed worthwhile going ahead against the wishes in case you are unable to change their minds.
Developing a working space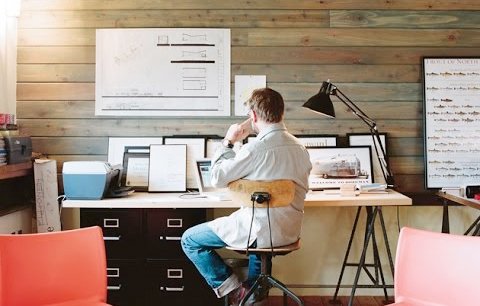 When you consider a business from home it is essential for you to remember the primary function of your home is to serve as a dwelling for you and the family and the business requirements are secondary.
If you are considering a business that requires you computers ensure that you have the technology needed to make your idea successful.
Have a business plan ready
Quite a few business fail because they do not have a business plan prepared well in advance. If you are planning on starting your own business you must have a business plan because it would be helpful for you and guide you in communicating with your bankers or your investors about why they should be investing in your business. The business plan should also include a mission statement, product or service offerings, marketing plan, target market, and all of the information that will prove beneficial for the business.
Finding the right funding
Starting your own business would require an investment upfront. The investment can help you break even in about a year but you should bear in mind it can take longer for some businesses before they can be free of any debts.
You should be looking for small business loans from your local bank or tapping into your savings or investments and can also borrow from family and friends. However, you are advised not to consider credit card debt because of the exorbitant interest charges or your retirement funds because it would have an adverse effect on your retirement.
Planning your company budget
A number of companies are planning annual budgets but some business owners are doing it more often. As a new entrepreneur starting your own business you should be choosing the latter option because it will give you an opportunity to plan for just a couple of months ahead and keep you in touch with the business to take care of any unexpected expenses which can disrupt your expense and revenue assumptions.
If you have finally decided on starting your own business we are sure the tips provided will help you make a proper beginning.
More in Investments & Savings