20 Wacky Things People Actually Buy from Amazon
Who doesn't love Amazon! It's just a more efficient, faster, cheaper, and convenient way to shop that seems to be replacing our beloved store fronts. In fact, online shopping is going through such a revolution, we wouldn't be surprised if they start selling cars online! You can buy auto parts, car insurance, tires and accessories for your cars already, so it's just a matter of time, eh?
Amazon is for modern shoppers what Angie's List was for home improvements and projects: A 'one-stop-shop'. Think bras, T-shirts, boots, engagement rings, furniture, photo books, refrigerators, pre-owned items, electronics and so much more. And they come with free or cheap shipping, insane discounts, extended warranty in some cases and a long replacement window in case you want to return any of the products. And if you look closer, this shopping platform is full of some very wacky and odd products which we think are hilarious! So if it's a candle for left-handers you are looking for or just a decal of a cow staring back, then Amazon is the place for you…
 Nicolas Cage Mermaid Pillow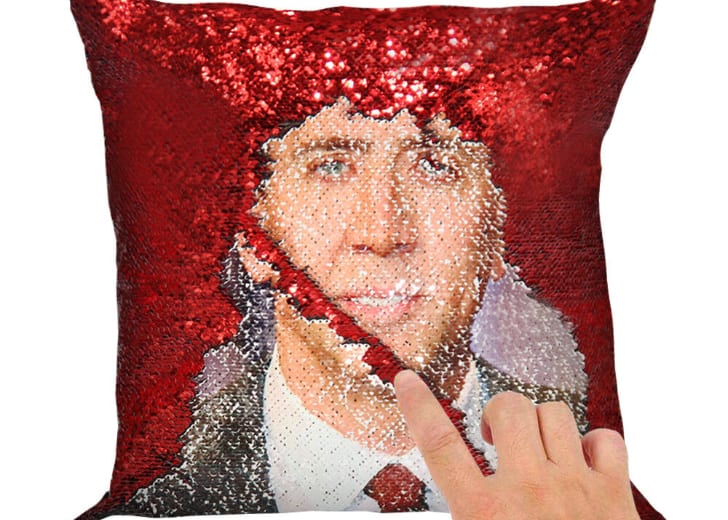 Movies are said to be an escape from reality, as it transports you into a different time, era or place. But what if you would like to carry a piece of the movie or it's star with you and make it a part of your home decor? So for this specific reason, we bring to you, a Nicholas Cage Mermaid pillow, now in different colors. Mermaid pillows are basically sequined pillows which when flipped over, can change to a different color or in this case, reveal a sweet, sweet surprise.
A perfect gift for any Nic Cage fan… you can even get pillows from different movies of his, such as the Gone in 60 Seconds Nic, the Face/Off Nic or even the Ghost Rider Nic, the options are infinite! Personally, we would love to upholster our furniture with Cage's images. The man is, after all, a National Treasure!
Pillows aren't the only thing Nicholas Cage's billion dollar face appears on…
More in Luxury & Life Style